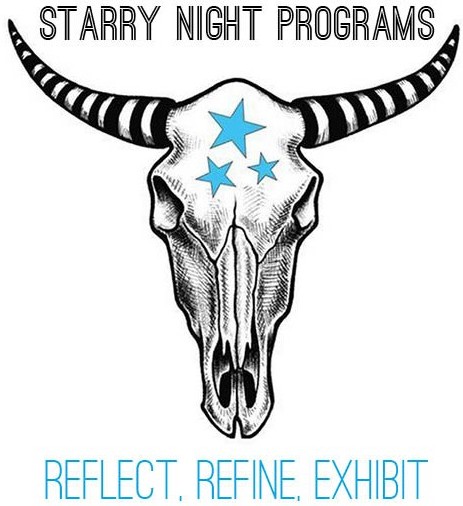 Our Mission
Starry Night Programs is dedicated to supporting and nurturing artists and their careers through our Residency, Exposure, and Online training programs.
Starry Night provides a residency program for artists and writers in the quiet, rural town of Truth or Consequences, New Mexico.
For visual artists, we have an exhibitions program that travels to Miami Beach for Art Basel Miami every December to foster the professional development of our artists at international art fairs.
We also have an online professional training for artists who want to create a sustainable career as an artist.
Residency
The Artist In Residence program is nestled in the historic hot springs district of Truth or Consequences, New Mexico. Located in southern New Mexico, Starry Night provides a nourishing environment for artists, writers, and researchers of all disciplines to accomplish new work. Apply here.
Exposure
The Starry Night Exposure Program provides visual artists with the opportunity to show their work during Art Basel Miami Weekend in Miami Beach and the Frieze Art Fair Week in New York City. The Exposure program brings visual artists onto the international stage to participate in these contemporary, high traffic art fairs in order to launch their careers to the next level. Apply here.
Online
The Artist Resources & Tools program is our online, video based professional practices program for visual artists who want to have a sustainable career as an artist. This program consists of eight weeks of training for artists seeking to learn the best practices for professional artists, to ultimately gain larger reach, visibility, and sales of their work. Apply here.
Connect
To stay connected, with us as well as with other artists and arts supporters, please join our mailing list and we'll send you an invitation to our private facebook group right away.
Starry Night Programs has a unique organizational model that the Director, Monika Proffitt, created using her own resources which re-configuring what she had learned, and adding her own twist. For more information on our organizational structure, you can see the presentation she gave to the Alliance of Artist Communities here.