Social Hour and Sales
We're having so much fun with the Exposure Program at Select Fair NYC. Probably too much fun.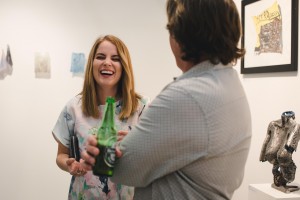 The VIP Preview and Starry Night Party were a blast on Wednesday night. Exposure Artist Emily LaCour sold two pieces right away, and we couldn't have been more proud of a job well done – by everyone.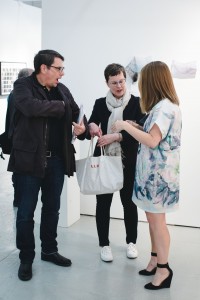 Emily LaCour discussing Transference 1 with it's future owners
We have a great line up of artists, and the fair is open until 10pm every day through Saturday.  If you haven't come already, hurry up and come visit us at booth 204.  Wed love to show you the space and take you to the roof for the performances that are happening every evening.
Here are the hours:
Friday May 15th | 2:00-10:00pm
Saturday May 16th | 12:00-10:00pm
Sunday May 17th | 12:00-6:00pm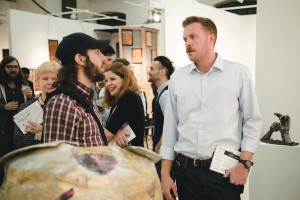 Chip McCall getting invited to Brooklyn Collage Collective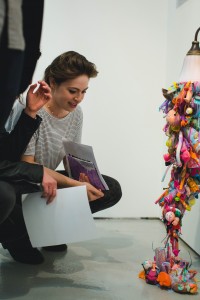 A spectator closely examining "Tomb to the Wreckless," a 3-D sculpture of Chip McCall's
Here is the full list of our exhibiting artists:
Join the ongoing conversation in our Starry Night Artists group.
Interested in getting free resources from us? Join our mailing list.
Dedicated to nurturing the careers of emerging artists, Starry Night's programs are designed to lower the traditional barriers that artists face when trying to establish themselves, and help them to start making a living doing what they love.  To learn more about our comprehensive online training program, Artist Resources & Tools, click here.