Sunshine and Studio time at the Residency
This week at the Residency, our artists have been making great use of the studio. Here are Artists In Residence Caitlin Glennan, Libbet Loughnan & Amanda Martinez, fast at work in the studio.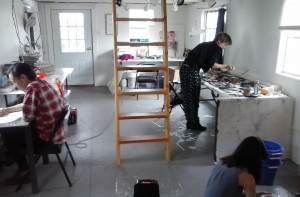 The spring has begun in the desert. We've been enjoying each others company around the fire pit at night and working outside in the warm sun during the days. It's hard to imagine how cold the weather is in the rest of the world right now. Starry Night has always been nestled a special place, sheltered from the cold and the hustle and bustle of the big city. Nothing like a population of 5,000 or less to keep things quiet and peaceful.  Click here to take a virtual tour.
The application deadline for residencies is April 15th, 2015.