You need to be seen, and we're here to help (for free)
We want everyone WE know to know about YOU. So, we've created a printed catalog of emerging artists, and we call it our

Printed annually and available on December 1st.
And guess what? It's absolutely FREE for artists to submit their work, and if selected, it is free to be included.
The submission deadline is July 15th.

If you'd like to order a copy of last year's Artists to Look Out For catalog
Why we do it:
Because, after all of our success in the last year, we know how important it is to keep creating opportunities for artists. We constantly look for new doors to open, and when we find one we want to hold it open for you too.
This book will say two things to its readers:
1. You better pay attention because these artists are on their game

AND
2. We need to look out for each other, and Starry Night is looking out for artists like you
You see, after several years of making programs that help artists, we're finally at a place where we just want to give back. We've had the wonderful fortune of meeting so many amazing artists from all over the world, and every one of them has left us with a new found inspiration and nugget of greatness.
How it happened:
We were standing at our Exposure gallery booth at an art fair in New York a few years back, and we had a Eureka moment.
We suddenly realized that you — as a unique artist with a unique story — should be treating yourself like a brand and that we — as the trailblazers that we are — should be helping you do that because, well, it's is what we do. We thought of ways we could implement our new found ideas, and one of them was to create a book. Hell, we've already made catalogs for all of our exposure exhibitions…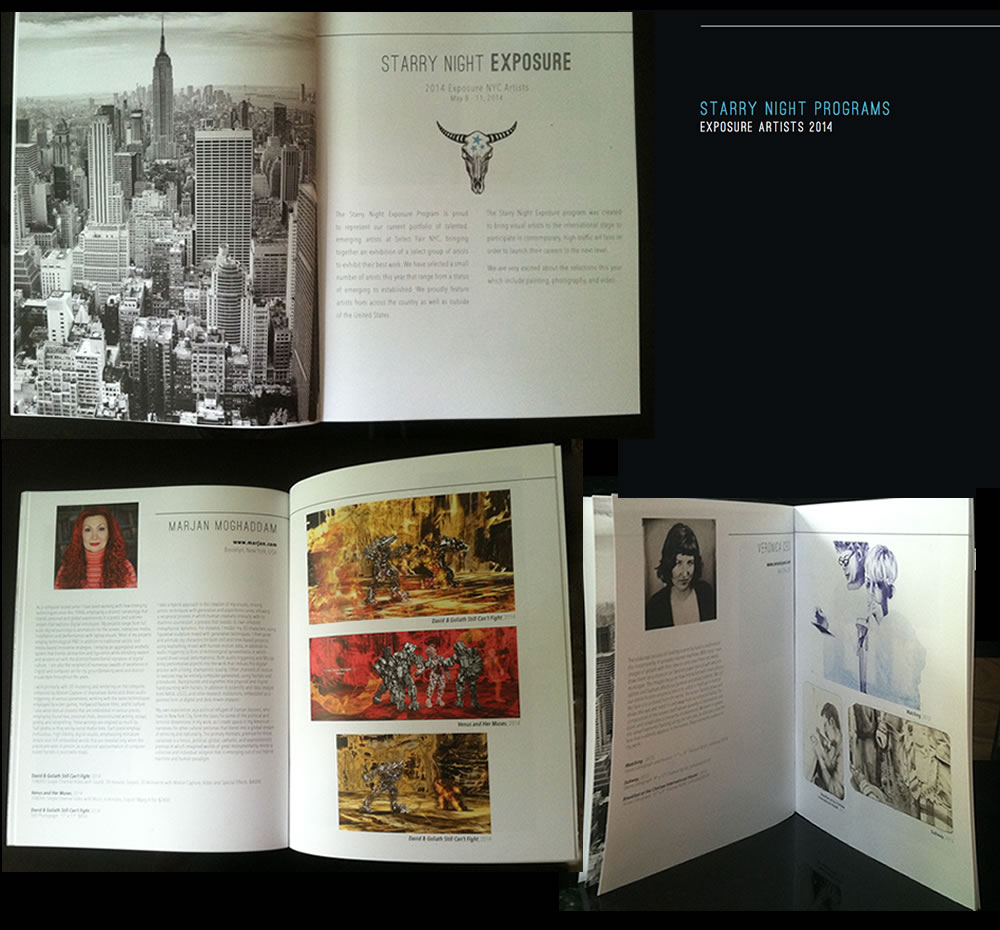 We thought, how can we help more artists than just the ones that are ready to push their careers to be in a big art fair? What about all the other emerging artists? There's tons of us out there, so what can we do to help the most amount of artists establish their personal brand?
Our answer: create a printed catalog filled with artists we truly believe in.
We want to showcase the artists that we really believe in, beyond the ones we've already worked with in our residency and exposure programs (although we are partial to them because they've touched our hearts). So now we'd like to hear from you.
Please send us four of your absolute best work samples to be considered for placement in our catalog.
And, if you like the sound of this, you'll definitely be interested in our Exposure Venice exhibition where, if selected to participate, you can not only be automatically included in this catalog, but you can gain exposure in the world's biggest art fair, the Venice Biennale. You can click here to learn more.
What's in it for you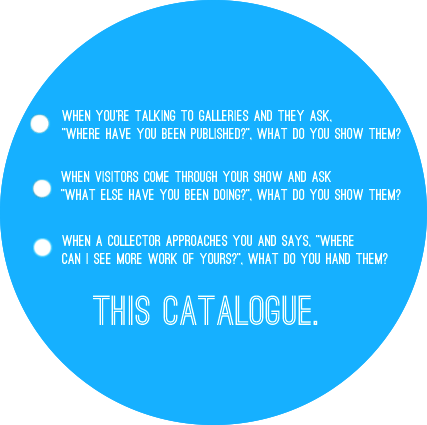 So, you go from empty handed, to presenting them a beautiful, printed book that features YOU alongside many other amazing, emerging, and promising artists.
This catalog will:
Be published and made available for sale on Lulu, a company that has published over 1.1 million titles, and Amazon.com, with hundreds of millions of buyers on their platform

Be shared on our social media channels and pushed out to our extensive mailing list of nearly 4,000 people

Secure your position as an emerging artist that an established art organization has identified as an "Artist to Look Out For"
Not to mention that it's absolutely FREE to be included. There is no risk for you, only benefit. Which is what we LOVE doing for artists.
Submissions will be accepted until July 15th.
*Inclusion in the Artists To Look Out For catalog in no way obligates you to participate in one of our paid programs.
Hungry for more info?
Well, thanks for reading all the way down here.
Remember earlier when we said that every one of our artists has left us with a little nugget of greatness? Remember when we said that we are partial to them because they've touched our hearts? Here's a taste of why:
"The Exposure Program has been a wonderful, enriching experience and I would be honored to be a part of any future endeavors." – Kelsey Shwetz, Exposure Artist
"My time at Starry Night was some of my most productive, and informative. There is something magical about the New Mexico landscape and history. This residency let me tap into that, and begin a new body of work, while also providing much needed uninterrupted work time." -Belinda Haikes