Deadline Extension for Frieze Week NYC
We've extended our Exposure application deadline to come to New York during Frieze week to
April 10th at Midnight

The Exposure program has partnered with SELECT Fair to curate our fifth exhibition and we are excited to return to New York May 13th – 17th. We invite all to join us and encourage visual artists to apply!

Will you be in Chelsea, New York, at the time? Tell us on Facebook or leave us a comment to this post: Because you're invited to the show and we would love to see our many friends, past artists in residence who've stayed with us at Starry Night in Truth or Consequences, and all of our many followers, come by Select and check out the fine work of this year's Exposure NYC Artists.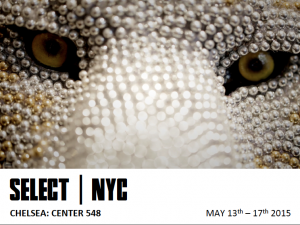 Not sure how to create a great application? Check out our new video on just that: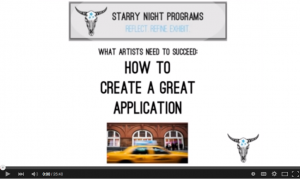 This is just a small part of what we are pulling together in our brand new, 6 week, online professional practices program:

What you'll walk away with:
Everything you need to know to create a strong portfolio
A fine-tuned 'Elevator Pitch' that'll make the people that matter think YOU matter
A ultra-refined Artist Statement and Bio that'll actually get read
A step-by-step guide to building your digital home online – it'll be functional as well as damn beautiful
The inside scoop on what the 'art world' expects to see in your social media channels
The confidence to show your work like a professional, regardless of what stage you're at
Clarity over the important marks of professionalism that'll help you expand your network and cultivate greater exposure for your work
 By the time you leave you'll remember all the reasons you became an artist in the first place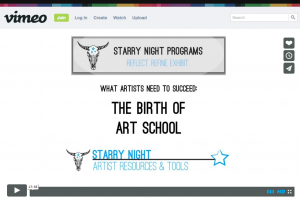 What's included:
Lifetime access to over 30 video/audio classes teaching the fundamentals of profiting from your passion
A complete library of templates for emails, promo materials, press releases, wall labels and more
Access to exclusive never-been-heard-before interviews with established artists, arts administrators, – curators, and supporters who generously share their insights to help you get started
Membership to Starry Night Programs' online community where you can connect, share, and support other emerging artists from all over the world
Weekly digital office hour sessions with Monika to get your burning questions answered
The course starts on June 1st, and all content will be available then, so you can go through it along with us each week, or go through it at your own pace.
Click here to register at our early bird price of $449.  That's a savings of $400 for the same lifetime access.
Click below to watch more  videos on our programs Vimeo.