How to Create a Great Application
We posted this a little while back, but it bears repeating. Our How to Create A Great Application video is already helping a lot of the artists who are currently in our programs, and we want to make sure you see it too, so we can help you get to where you want to go.  But first, a little back story…
When we started the Starry Night Residency Program, it quickly became evident that philanthropy comes in many forms. It's not only about the money, it can also be about giving your knowledge and your time.
Once an artist is in on one of our programs, we spend a lot of time helping them put together the right materials, making the right file types and sizes of their images, talking with them about their artist statements, their bios, even coaching them on how to talk about their work to a total stranger.
There are so many things an artist has to master outside of the studio, and so many artists don't even know how to make a great application. So we have created a video presentation on How to Create a Great Application. Please check it out and, if you have the time, it would be great to hear what you think of it in the comments below.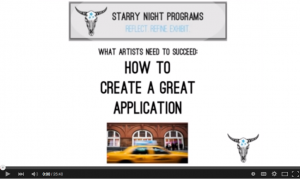 Helping our artists dream of and attain the next level in their trajectory is one of the most rewarding parts of Starry Night Programs. We hope this helps you in your journey as you grow your art career, too.