The Birth of ART School
After spending years working with artists in our Residency and Exposure programs, we continually saw the same questions and stumbling blocks popping up for artists.
No matter if they were basking in the desert sun and making work in our quiet hot springs town of Truth or Consequences, or exhibiting their work at a bustling, international art fair like Art Basel Miami.  The questions were the same:
How do I get that grant I need?
What is a review panel really looking for?
How do I present myself as professional?
What does a good portfolio even look like?
Well, we listened and have put together the best advice we've given out into one place, ART School. Here is a short video presentation that we made on the genesis of the program as well as some details about it.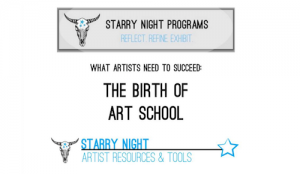 We all have to start where we are, and work with what we've got.  Our hope is that Starry Night can help artists make the most of their art careers, and take their dreams to the next level – whatever that looks lie for them.
Please let us know in the comments below if this is helpful to you. We are always looking for ways to improve.