Winter at the Residency
January 15th – Residency
Our January 15th residency application deadline is fast approaching, and we have had a lot of interesting applicants! With a few days remaining to apply and still receive our 2014 rates, we encourage you to apply before the deadline.
A few of you have asked whether or not you may continue applying past the deadline. We do happily accept applications year round, but after this up and coming deadline our rates are going to increase for the remainder of 2015!
Not ready to apply before the deadline? We do offer financial aid packages, which you may read more about on our website. Other great news – we are working on fellowship programs and other scholarships to one day offer to emerging artists to help them cover the costs of residency. We are really excited to develop these programs and encourage new artists!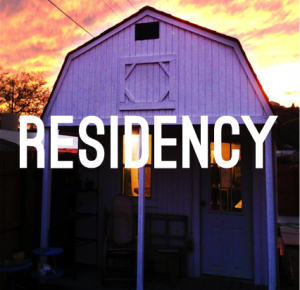 It Snows Here!
It snowed in Truth or Consequences, a spectacular scene in the desert landscape that doesn't come around very often or stick around for very long! The desert has an enormous range – from very quiet to teaming with birds, bees and the buzz of life. There is something uniquely special about the quiet that only comes from a blanket of fresh snow, especially in the desert.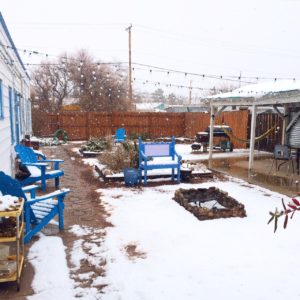 Cat-in-Residence
Some of you may have heard that our Cat-in-residency took a day off without informing us, but Nina is safely back at her post at Starry Night.  This card from former resident Stewart Gibson is a reminder of what a great hostess Nina is.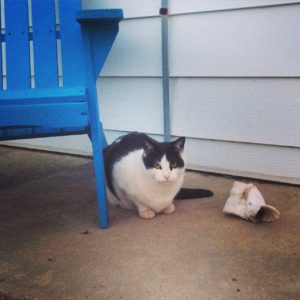 Sign up for our newsletter and stay up to date with news and information about Starry Night!
Best,
Monika + The Starry Night Team